| | |
| --- | --- |
| Posted on August 14, 2015 at 3:50 AM | |
It's not going to work out! What are you doing? Are you serious? Your family and friends don't see the point, but you see the purpose. This person is different. To you it is worth the effort no matter how many miles may stand in between the two of you. Ahhh… Long distance relationships! Something that I am too familiar with. It is said, "Distance makes the heart grow fonder," but the real question is does it make the heart grow stronger? Some people find it hard to commit when you reside within the same city. Adding distance to the equation can wreak havoc on an individual's soul; especially when you really like that person. Questions often run marathons in your head when you don't have the usual face to face relationship all access pass, such as, are they fully committed to the process? Are they entertaining anyone else? What are they doing? Why wasn't my call returned? Long distance relationships are catch 22. When it's good, it's amazing, but the moment things shift it's hard to save. Here is the craziest part of all. When it's over, it's over. You never have to see that person again because distance is a factor. Crazy huh? One can really fall off the face of the earth never to resurface again if it ends on a sour note. Consistency is key when your relationship is geographically challenged. Without consistency being present insecurities will begin to fester like a sore making it harder for the relationship to thrive. No relationship is fun when it is full of insecurities, doubt and tears. Talk about a recipe for disaster. It takes creativity, effort and sacrifice to keep those home fires burning and your spirit churning when there are more miles than minutes that separate you. If not, the distance will not work for you, but against you.
Today, I dedicate my blog to my long distance lovers. I have worn those shoes proudly a time or two. I get it and understand. This is not going to be easy, but ultimately you will choose what's best for you. Here are a few tidbits to help you in the quest of a successful long distance relationship.
1. Face It or Fake It- Ask yourself, "Is being in this long distance relationship worth my time and effort." You have to be honest with yourself. We are settled in our ways, cities, and age. If you know there is not a possibility of either one of you considering a move, why stay? Don't waste your good years trying to convince someone you are worth the chance. Someone will eventually have to make a move. Hopefully it's a beneficial one for both parties. Face the reality sooner than later.
2. You need a strong support system. I know your family and friends may find it strange that you want to commit to someone that lives on the other side of the world. Tell them to save the ridicule and join forces with you. How? By encouraging you, keeping you busy and their prayers. You will need their support when things become uncertain in your relationship. Yes! You may make a fool of yourself, but tell them to get on board until you get off the train. Now, if the lack of support is because they believe he is not right for you, that's a different story. Other people see things that we tend to overlook. You may want to take heed on that. Don't completely ignore it.
3. Technology is your friend. Skype, Snapchat and FaceTime are an absolute must. Turn those miles into seconds by being one click away. Don't overkill it though with outlandish expectations. Every conversation cannot take place through social media accounts because life must go on. But a few sprinkles of FaceTime will do your soul wonders and keep you grounded.
4. Everything matters. The small things and the big things. Include them in everything so they can feel like they are a part of your life. What that says is that you care and you wish they were there to share those precious moments together. Remember sharing is caring.
5. Seek every opportunity to see each other. Live for the weekends, and holidays. I truly believe that people will make time for things that are of importance to them. Plan those visits out accordingly, so by the time the separation anxiety kicks in the visit is right around the corner.
6. Expectations are a must. Lay the foundation and have clear expectations from the beginning. When you are dating long distance you need to know if the both of you desire the same outcome. For instance, will you be exclusive or will you see other people?
7. Communicate, communicate, communicate- Sometimes it's not what you say, it's how you say it. Being in a long distance relationship is complicated, so save the attitudes, drama and antics. I can't stress that enough. You have to build bridges and remove those guarded walls of your heart. Let them in! It's pretty pointless to be in a one way relationship. Learn to be open and communicate effectively.
8. Mutually agree to make the commitment. In order for anything to work, you must be committed to the process. FULLY committed. 100% on both individuals. The moment that commitment waivers the relationship will too. Stick to it, especially if you know that this relationship has potential.
9. Avoid temptation- Tell yourself that you refuse to entertain anyone that can sway or temp you. If I think the guy at work is super fine, I will not accept his invitation to lunch or happy hour unless it is work related. Don't put yourself in compromising positions that you will regret later. Run far away and don't even give it a second thought. Keep the long term goal in mind.
10. Use your own judgement- Trust your gut instinct. No need to be suspicious, jealous, or asking belligerent questions smudging your lipstick. What happens in the dark will definitely come to the light. No need to go searching for what you "think" has happened. Eventually, lies can't replace the truth. It will come to the forefront.
This blog comes from an honest place. At one point in my life, I actually preferred being in a long distance relationship. I loved that my heart was isolated from the dating madness. I had somebody to fill the void but he wasn't physically here. No long walks in the park every Sunday, intimate touches or weekend dates. When he was here, it was explosive and meaningful. Moreover I relished in the opportunity to truly miss someone and someone missing me. The anticipated countdowns, long hours on the phone, cute text during the day, and waiting on plane tickets to go on sale were a part of my regimen. Despite the discouragement, I pressed on when it came to "him." He was special to me but he wasn't here. Then something changed. It ended suddenly and I was left with unanswered question and a bruised heart. Maybe he was tired of the distance, met somebody new or no longer interested in the pursuit. I don't know. He disappeared like a vapor in the wind. The realization that it was over was realer than real. As I reflect I can't help to ask myself, did we fully commit or did we flat out quit. We quit! Instead of growing stronger, we became weak and gave way. We quit trying. We quit caring. We quit making an effort. The distance couldn't sustain the need any longer. His need to be fulfilled as a man and mine to have defining boundaries that I didn't establish in the very beginning. Looking back, he was not a complete waste of my time. He served a purpose. He gave me hope.
People complain that long distance relationships don't work. As far as I can see, relationships within the same geographic confinement struggle as well. Why? Because no one is willing to commit fully to the process. One foot is in this door and the other one is where it wants to be. In order for it to work, one must be fully committed to the process. The moment there is a change of heart, please share it with the other partner who's keeping their heart stored away from the irresistible temptation.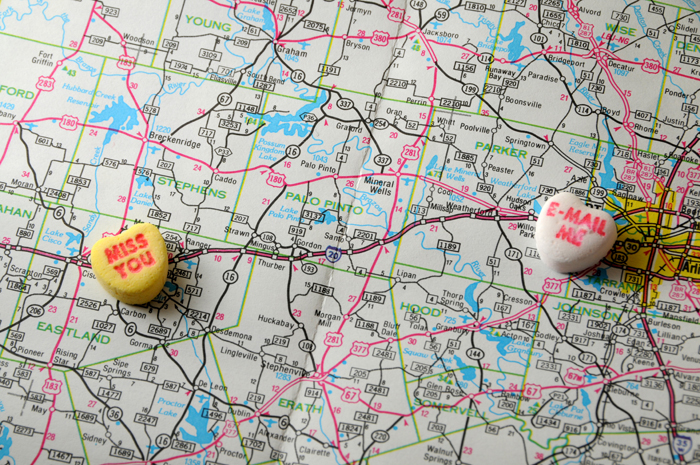 Categories: Too much on my mind, Reflection, Relationships