| | |
| --- | --- |
| Posted on June 5, 2015 at 10:10 AM | |
To be young, gifted and a sweet precocious black girl... oh what a lovey precious dream. She had so much promise in her big brown eyes, with the possibility of a great future ahead. Growing up on the south side of the the metroplex, she was the object of affection in her family's eyes. Her mother tried to overcompensate with material things because she knew her daughter was emotionally deficient. Even with time and beauty on her side, she lacked one important piece of her life... Her father. For an extensive period of time, there was a void in her heart she couldn't explain. She tried to fill those voids with male attention and relationships but still experienced rejection and the need for validation. Validation that she never received because each relationship was never successful. For the longest she couldn't figure out why. She felt depleted and suffered effects of low self-esteem and self worth. No daddy's knee to sit on, wearing the special title of "daddy's little girl, or super hero in her eyes to save the day. Just broken promissory notes and debts that he refused to pay. Her emotional security compromised forever. As time went on, she learned to guard her heart and avoid engaging emotions as the perfect excuse to keep her running shoes on and never to fully commit. She becomes "hard" and made a vow to herself never to be hurt again (if she can control it) Due to the constant feelings of abandonment, she becomes emotionally frail before entering into adulthood. Sad, but it's true. I know first hand how this girl feels. This girl is someone I know all to well. This little girl is me.
There has been a dramatic shift in the African-American home within the last two decades. This fatherless effect has affected the stability of future generations to come. There are more children growing up in homes without THEIR father. As an educator in an urban school district, I see first hand the effects of a fatherless child. These students are emotional, promiscuous, their academic performance is sometimes affected, and may suffer from social and psychological problems. Statistics state that boys are more likely to become involved in crime, and girls are more likely to become pregnant as teens. A father is so important in the home. He provides security, stability, and most of all is a role model of what a man should be. A father's role for a young girl shows her how a man should treat her, love her & make provisions for the home. Her father is her first love. Optimally, a little girl needs to see herself reflected in the love she sees for herself in her father's eyes. If she doesn't, her portrait of manhood will be distorted.
The past is a sure indicator of our future. Our childhood circumstances affects our relationships as an adult. The absence of a father in a girl's life may have major consequences in those development years because the positive paternal role model is missing. Without a father present it makes women pick anything as far as mate. There was no one there to set the standard too. If a girl is not reassured of her value and worth early in life she finds it difficult to relate to men. Subconsciously without regard, she seeks approval and recognition from her prospects. While jumping from bed to bed, underneath it all the fatherless woman remains hopeful that someone will stick around to love her the way she desires and receives the validation she longs for.
This coin is two-sided but it's still scary. All is not lost for the fatherless daughter. She may not endure the life of poverty, babies and crime. Instead she will become successful in her own right. She believes in herself, while the latter needs to excel in order to catch a glimpse of approval and recognition in the eyes of those who give her a message of approval, honor, or prestige. The value of such a belief in oneself, easily acquired by the woman with a positive relationship to her father, is immeasurable in the adult life. In the process of success, she learns to love herself. By receiving others approval she realizes that the validation she was searching for comes from a peaceful place. The peace she never knew. She becomes aware of her past, the mistakes and decisions  that transcended into her present relationships. (Speaking about me) She makes peace with herself, forgives her father and grows from it.  In the end, she realizes she wants to take off those running shoes for a positive and healthy relationship.
But we know that history repeats it's self. That's a known fact. I was raised by a single mom and now I'm a single mom too.  The major difference is my son's father is a dominant figure in his life. I don't understand the dynamic because I did not experience that with my father, but I am thankful for their relationship. I believe certain roles belong to certain parents.  I can't teach my son how to be a man because I wear my dresses and make-up proudly. One thing is for sure, just as my mother pushed me to greatness and success, I will do the same for my son.  
The past really affects our future... Yes, I did not have a father in the home growing up, but I did not become a societal statistic.  I actually think I turned out better than some people growing up in a toxic household with both parents present. My home was filled with love, peace, laughter and successful women. The fatherless daughter can grow into a woman with purpose, ambition and determination. She becomes a dedicated mother and learns to give to causes greater than herself. I've learned to address the root of the problem so my outcome could change.  I now know what self-love means and I practice it.  You see a successful woman in front of you today, but I remember when...  Thank God for deliverance and change. I think I just had an Ah-Ha moment. This feels good!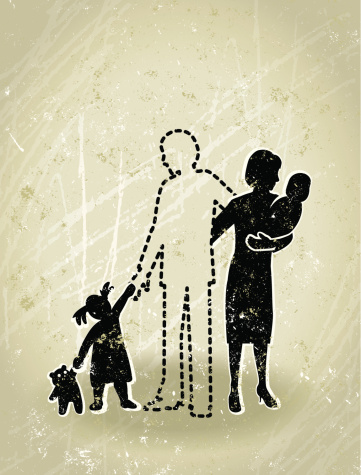 Where are the fathers?

Categories: Too much on my mind, Relationships, Better You