Where there is no vision, the people perish: but he that keepeth the law, happy is he. So about last night... I am so happy! I participated in a vision board party at my dear friend's home with some amazing women. The weather outside was frightful but the fun inside was so delightful. It was truly a blessing to be around warm & positive spirits who are just as determined and driven as I am. We encouraged, helped, laughed, assisted, drank, ate and laughed some more. That made being out in the cold weather so worth it. What a powerful way to end the first week of January! I believe last night will make a major impact in my life for 2015. What is a vision board you ask? A vision board is a powerful visualization tool that you can use as inspiration for your journey toward your ideal life. By cutting, creating & pasting what I envision for my life, through my hard work and prayer, I truly believe God will make those things happen if it is HIS will for my life. Futhermore, having a vision board will help you to remain focused on your goals but most of all it will hold you accountable. Speak those things into existence. The word of God tells us to delight ourselves in Him and he will give us the desires of our heart. I want my dreams to come to fruition in 2015. The vision board party forced me to set aside time to draw positive things into my life. Doubtless you have heard it said that most of us never get what we want because we don't know what we want. Well... I do! Making a vision board is a wonderful way to bring clarity to that general desire and turn it into an achievable goal. I challenge you to do the same. There's no "right way" to arrange your images because this is YOUR vision. Act like Nike and just do it. Remember my motto for the New Year... Give birth to your dreams in 2015. Nothing comes to a dreamer but a dream, you must but your vision into action. Why not start today.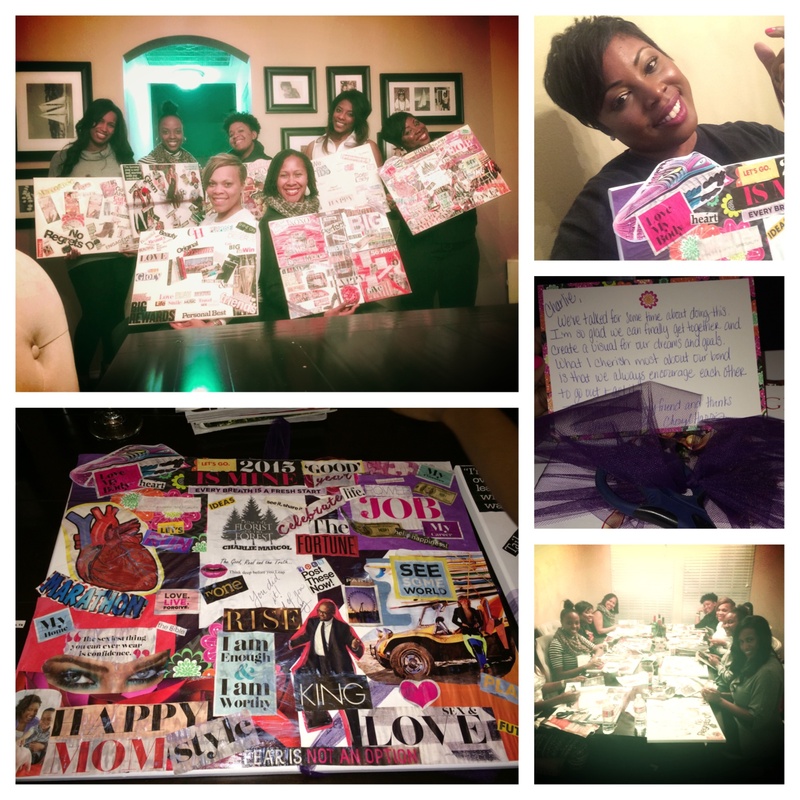 Here are the things you'll need:
a posterboard, cork board or small canvas
a stack of old magazines
scissors
markers or paint
glue, tape, thumbtacks or pins
a photo of yourself (optional)
Decorative items such as ribbon, tulle, and/or construction paper

Step 1:
Set aside ample time to complete your vision board. It takes a while. Go to a quiet space in your home where you can concentrate on yourself for a little while. Ask yourself some important self-reflection questions such as... Where do you see yourself by the end of 2015? What are the ultimate goals you want to achieve?
Step 2:
Create a relaxing atmosphere. Put on inspiring or upbeat music. Light a few candles if you want. Close your eyes and take a moment to reflect on your big goals and dreams. What do you want your ideal life to look like?
Step 3:
Cut out images from magazines that represent the life you want to live. For example, if you want to become a fashion designer, you might clip photos of models wearing designer clothing on the runway. If you want to find a great romantic partner, you might snip pictures of happy couples smiling at each other.
Step 4:
Place the photo of yourself in the middle of the board (optional). Then, paste or pin your magazine images on your board. You can fill the board with pictures or just have a few posted all over on the board. I tried my hardest not to leave any open space. I want to remain focused on my goals.
Step 5:
Use your markers or paint to write your personal mantra or other favorite quotes onto your vision board. You can also just cut out words or phrases from the magazines to paste on your board that remind you of the life you want to live.
Step 6:
Display your vision board somewhere you'll see it every day and feel inspired! If you like, you can also frame your vision board and hang it on your wall.
And there you have it – an easy, step-by-step process for creating a vision board to help you reach your goals. I hope it's useful to you!
If you found it useful... please leave a comment and share.

Happy 2015. Where did the time go! 2014 is in our rear view mirror and now we are walking into a new year. Did you know that 2014 was a year for double completion? What did you complete this past year? Did you live your life with purpose and fulfillment? Did you allow God to lead you & surrender to his will & his way. I tried it this year & for the first time in a long time, I feel complete. Did I go contrary to HIS will at times. Yes, I did. I'm human. But honestly, I'm not longing or wanting anything. God supplied all my needs plus more. He gave me some wants, made dreams come true define my purpose & helped me find my passion. Thank you God! This week has been bitter sweet, well more like melancholy because 2014 was wonderful to me despite the ups and downs. I accepted it all; sometimes with tears in my eyes, a bowed head, broken heart and spirit. I look forward to the blessings that God is going to bring in 2015. As it is written, Eyes has not seen, nor have ears heard, neither have entered into the heart of man, the GREAT things which God has prepared for them that love him.
Sooo.... C'est la vie c'est la vie 2014. You were absolutely wonderful to me. I completed some task that I did not think I could accomplish. I learned to love myself, I wrote a book, I became debt-free, I learned to look in the mirror and self reflect! My new motto:: Give birth to your dreams in 2015. I challenge you to live your life with purpose & promise with God as your captain. He knows the plans that He has for you. Be blessed and a blessing to others.
#purpose #livinglikeitsgolden #onwardandupward

Let's pour up some tea...
Basketball Girlfriends, the Fake Housewives of whatever county, Keeping up with The K's, Lust & Bebop... Yeah, you got it? For legal purposes I will not mention their name, but we know who they are. To be honest, reality television has put a sour taste in my mouth. It disappoints me how reality television has impregnated the minds of impressionable people. It has given birth to a false sense of reality. We sensationalize, idolize and elevate these women to the position of BFF's in our head. We know what their characters represent; they are topic of conversation on Facebook and Twitter, in the elevator, and at the salon. We read about their business on gossip blogs and we follow them on social media but yet some of us have not decided to follow Christ. (I digress) I could be wrong about this, but reality TV has messed up our discernment about friendships, marriage & relationships. The sad thing is that the majority of these shows are produced by women that is more concerned about dollar signs and fortune and less on women's empowerment. These women have entered our homes religiously on Sunday nights to give us the "tea" on issues that don't affect us, our city, our paychecks or our home. We are more consumed on what is going on in ALT than our own backyard. For some, it has affected the perception of who we are because we have allowed these women to become our role models influencing our self-image and self-worth. Nothing is real about these woman, nothing! From the hair in their head, the catty made up fights, the cars they are driving, to the lavish condos and houses they are parlaying in. It is for entertainment purposes so stop carrying them into your reality. What happened to goal oriented, career driven, professional woman that had morals & values being represented on TV. The TV wives of yester year, loved and respected their husband & his opinions. These women cared for their children & took care of their husband's needs. Granted those shows were scripted too, but each show had a message. Man, I miss television shows in the 80's. There was a plot, theme, empowerment & progression that dealt with real life issues. Children went off to college, friends enjoyed living single in a brownstone, people actually left the ghetto and moved up to the Eastside to high rise apartments. Now our black boxes are filled with ratchetmess, male bashing, adultery and a bunch of debauchery. All of it has embedded foolishness into our lifestyle but we are trying to keep up with them. We are living above our means, putting unrealistic expectations on relationships. Reality TV is as phony as a Canal Street Prada bag for $40.00. You can see how fake it is from a distance. It's scripted, timed, & full of drama. It's junk food feeding our hungry souls. We are looking for some entertainment that will give us true nourishment about real happiness, friendships, or how neighbors can come together to support one another in life. I guess Archie Bunker was right. "Those were the days." (I just told my age)